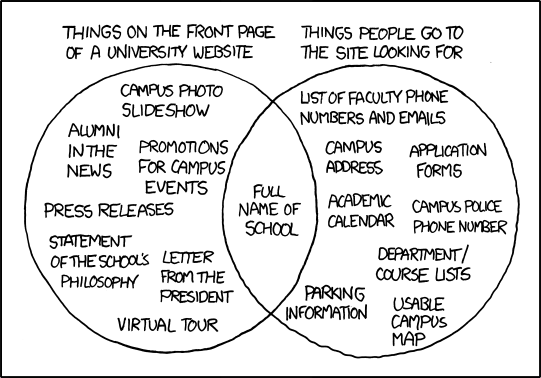 "Good mobile user experience requires a different design than what's needed to satisfy desktop users. Two designs, two sites, and cross-linking to make it all work." Aldus
usability
-expert Jakob Nielsen over de verhouding tussen mobiele en 'volledige' websites, op 10 april van dit jaar in zijn tweewekelijkse
column
.
Een storm van kritiek — op
Twitter
komt de term
Jakobrage
voorbij — volgt. "Stripping out content from a mobile website is like a book author stripping out chapters from a paperback just because it's smaller. We use our phones for everything now; there's no such thing as 'this is mobile content, and this is not'", schrijft ontwerper en ontwikkelaar
Josh Clark
.
Web ontwikkelaar
Bruce Lawson
doet ook een duit in het zakje: "[I]s the mobile device so fundamentally different that you should make different websites for it, or is there only one Web that we access using a variety of different devices? (...) I disagree (mostly) with the idea that people need different content because they're using different types of devices."
"The reason many 'full websites' are unusable on mobile phones is because many full websites are unusable on any device", legt Lawson de vinger op de zere plek. "[W]ebsite owners have long proved incontinent in keeping desktop websites focussed, simply because they have so much room. (...) If your normal site isn't minimal, functional, with everything designed to help the user complete a task, it's time to rethink your whole site. And once you've done that, serve it to everyone, whatever the device."
Het lezen van deze en
andere stukken
van mensen die het op punten hartgrondig en beargumenteerd met Nielsen oneens zijn, is mijn voorbereiding op twee dagen ondergedompeld worden in Nielsens
usability
-evangelie door een
User Experience Specialist
van de
Nielsen Norman Group
. Ik ga proberen te bloggen wat ik op
23
en
24
april heb opgestoken. Alleen nog een fatsoenlijke vertaling van
mobile user experience
zien te vinden — 'mobiele gebruikerservaring' klinkt toch een beetje alsof ik het ga hebben over de belevenissen van rondwandelende heroïnespuiters...